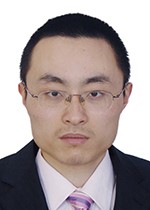 Prof. Yudong Zhang, University of Leicester(IET Fellow、EAI Fellow、BCS Fellow)
张煜东教授,莱斯特大学
Prof. Yu-Dong Zhang received a Ph.D. degree in Signal and Information Processing from Southeast University in 2010. He worked as a postdoc from 2010 to 2012 with Columbia University, USA, and as an Assistant Research Scientist from 2012 to 2013 with the Research Foundation of Mental Hygiene (RFMH), USA. He served as a Full Professor from 2013 to 2017 with Nanjing Normal University. Now he serves as a professor at the School of Computing and Mathematical Sciences, University of Leicester, UK. His research interests include deep learning and medical image analysis.

He is the Fellow of IET, Fellow of EAI, and Fellow of BCS. He is the Senior Members of IEEE, IES, and ACM. He is the Distinguished Speaker of ACM. He was the 2019 & 2021 recipient of Highly Cited Researcher by Clarivate. He is the author of over 300 peer-reviewed articles in the journals IEEE TFS, IEEE TIP, IEEE TII, IEEE TMI, IEEE IoTJ, IEEE TITS, IEEE JBHI, IEEE TGRS, IEEE TCSVT, IEEE TNSRE, IEEE JSTARS, IEEE TCBB, IEEE JTEHM, IEEE TCAS-II, IEEE TCSS, IEEE TETCI, etc., including more than 50 ESI Highly Cited Papers and 5 ESI Hot Papers.
His citation reached 20384 in Google Scholar (h-index 79) and 11980 in Web of Science (h-index 60). He has conducted many successful industrial projects and academic grants from NIH, Royal Society, GCRF, EPSRC, MRC, Hope, British Council, and NSFC. He has given over 120 invited talks at international conferences, universities, and companies. He has served as (Co-)Chair for more than 60 international conferences and workshops.
张煜东教授2010年毕业于东南大学信号与信息处理专业获得博士学位,2010-2012年在美国哥伦比亚大学做博士后,2012-2013年在美国心理卫生研究基金会(RFMH)做助理研究科学家。 2013-2017年任南京师范大学正教授。现任英国莱斯特大学计算与数学科学学院教授。他的研究兴趣包括深度学习和医学图像分析。
他是IET的Fellow、EAI的Fellow和BCS的Fellow。他是 IEEE、IES 和 ACM 的高级会员。他是 ACM 的杰出演讲家。他是 2019 年和 2021 年 Clarivate 全球高被引科学家的获得者。他在 IEEE TFS、IEEE TIP、IEEE TII、IEEE TMI、IEEE IoTJ、IEEE TITS、IEEE JBHI、IEEE TGRS、IEEE TCSVT、IEEE TNSRE、IEEE JSTARS、IEEE TCBB、 IEEE JTEHM、IEEE TCAS-II、IEEE TCSS、IEEE TETCI等发表多篇论文,包括50多篇ESI高被引论文和5篇ESI热点论文。
引用在 Google Scholar 中达到 20384 次(h-index 79)和在 Web of Science 中达到 11980 次(h-index 60)。他成功地完成了许多来自 NIH、皇家学会、GCRF、EPSRC、MRC、Hope、英国文化协会和 NSFC 的工业项目和学术资助。他在国际会议、大学和公司发表了超过 120 次受邀演讲。他曾担任 60 多个国际会议和研讨会的(联合)主席。